Originally published at Scott Edelman. Please leave any comments there.
Since I told you I'd sold a 10,000-word story to the anthology Chiral Mad 3, a lot has happened. Eight more authors—Josh Malerman, Gary A. Braunbeck, Hal Bodner, Emily Cataneo, Lisa Morton, Max Booth III, Meghan Arcuri-Moran, and Richard Chizmar—joined the table of contents, plus artist Glenn Chadbourne delivered his illustration for my story, "That Perilous Stuff."
As you can see, someone's hoarding problem has gotten a little out of hand …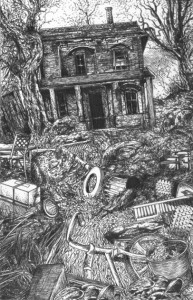 According to editor Michael Bailey, there are a few more short story purchases still to be announced.
This looks to be an amazing anthology, and I'm proud to be a part of it.