Originally published at Scott Edelman. Please leave any comments there.
I've already shared about the major sites we saw while on Easter Island—Ahu Tongariki, Ranu Raraku, Orongo and Ranu Kau. If you happen to visit Easter Island as part of a cruise, that's likely all you'll get to see, because you'll be ferried ashore (the cruise ships are too large to dock), rushed through those core sites in a single day without getting enough time at any of them, and then head back to sea.
But there's so much more that the one-day visitor will overlook. Here's what else we were lucky enough to visit during our time there.
During our first full day, our guide, in addition to taking us to Ahu Tongariki and Ranu Raraku, also drove us to …
Ahu Hanga Te'e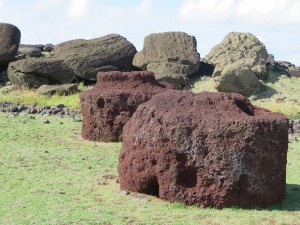 The eight moai which once stood upright here are now toppled, a few with broken necks, and their massive topknots have rolled forward off the platform. I could feel the weight of history, and inevitably thought of Shelley's "Ozymandias."( Read the rest of this entry »Collapse )