Originally published at Scott Edelman. Please leave any comments there.
Way back in the '70s, Marvel's Sol Brodsky commissioned me to write an Incredible Hulk coloring book. I wrote the script, turned it in, got paid for it … and then never heard a thing about it ever again.
Not until last week, when I spotted a cover from 1977 over at The Marvel Age of Comics Tumblr which had me wondering … is that the same coloring book I wrote? I couldn't be sure, but luckily, within a few hours, Paul Di Filippo alerted me to an eBay auction, and I jumped, exercising the Buy Now option so there'd be no chance I'd lose out.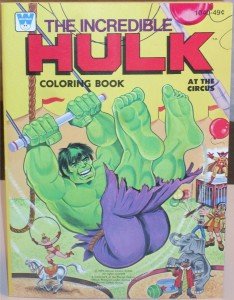 Well, now that I've had a chance to read the thing—all 230 words of it—I'm going to say that this is the coloring book I wrote all those years ago. And I'll keep saying that until someone comes along to contradict me.( Read the rest of this entry »Collapse )