Originally published at Scott Edelman. Please leave any comments there.
Sam Maronie continues to be my personal time machine. After turning up old cosplay photos of me bare-chested and wielding a broadsword, he's now shared something far more horrifying.
I mean, would you take a look at that shirt!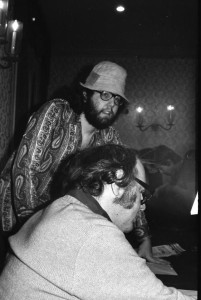 I completely understand why Don Perlin, the artist for my Captain Midnight Action Book for Sports, Fitness & Nutrition, can be seen averting his eyes.
This pic is from the 1975 Mighty Marvel Comic Convention. I was 20 years old. Remind me to tell you sometime how a 20-year-old kid ended up in charge of programming and putting together the program book for Marvel's first convention …