Originally published at Scott Edelman. Please leave any comments there.
On February 10, 1974, I was wandering midtown Manhattan when I was approached by a guy who asked me if I'd like to take a free personality test.
I was 17. I hadn't yet started working for Marvel Comics, hadn't yet met my wife, hadn't sold any fiction, or done any of the others things that make me me. And in that moment, I had no idea that this was a opening gambit to get me to agree to learn more about Scientology.
But I was intrigued, and had a few hours to spare, so I figured … what could it hurt?
So I followed the clipboard-carrying street hawker to an office, where I rated 200 statements, indicating whether I agreed, disagreed, or was neutral about them. If you want to know my answers, here they are. Check them out!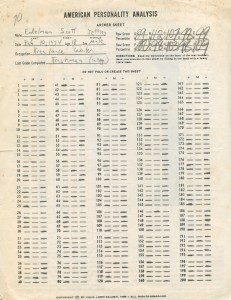 Doesn't tell you much, does it?( Read the rest of this entry »Collapse )