Originally published at Scott Edelman. Please leave any comments there.
Three years ago, I started using a Fitbit Flex, and on my first and second anniversaries I let you know how I was doing. Now that another anniversary is here—on Star Wars day, as usual—how'd I do during that third year?
Not as well as I'd hoped.
Thanks to a fall I took midway through the year that banged up my left leg plus a bout of severe toothaches late in the year that made it hurt to walk (both of which I've recovered from by the way), I only took 3,900,704 steps over the past 12 months, versus 4,078,838 steps the first year and 4,107,515 steps the second.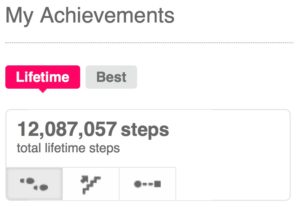 Still, 12,087,057 steps —which works out to 6,017.93 miles—over 36 months is far better than anything I was doing prior to buying the device.
But I still broke a record thanks to my greatest single day ever—October 17, 2015, on which I took 35,294 steps, walking 17.57 miles through Brooklyn and Manhattan, breaking the first and second-year records of 28,398 steps (14.15 miles) and 35,283 steps (17.56 miles) respectively.
As for step badges, here's how many I've earned in total, plus the breakdown for each year.( Read the rest of this entry »Collapse )