Originally published at Scott Edelman. Please leave any comments there.
For the latest episode of Eating the Fantastic, I broke away from Balticon for lunch with Fran Wilde at a restaurant extremely close by, and in doing so ended up replicating for you an aspect of con-going I'd yet to bring to you before—the fact we sometimes get so busy at these events that it's impossible to squeeze in a leisurely meal.
And so this is an Eating the Fantastic first—an episode recorded not just during lunch at Family Meal, but also later, back at the con over cookies from Vacarro's (because there had to be food involved, of course), in a room set aside for kaffeklatches.
Fran is the Nebula Award-winning and Compton Crook Award-winning author of Updraft, plus the host of the Cooking the Books podcast, which has a writers + food focus just like mine.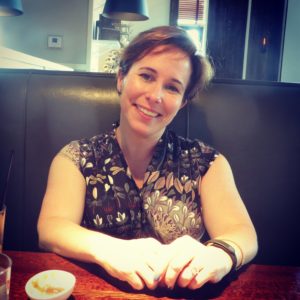 We talked about what she lost the night she won her Nebula Award, her love for Anne McCaffrey's The Ship Who Sang, the power of poetry, why she tries to do one thing a month that scares her, her Cooking the Books podcast, and much more.
Here's how you can join us at the tables—( Read the rest of this entry »Collapse )