Over at the Night Land Journal, my short story "What Will Come After" was praised as the result of its recent reprinting in Stephen Jones' latest best horror of the year anthology:
One of the most unusual zombie stories I've ever read is Scott Edelman's "What Will Come After," which I just read as the lead story in The Mammoth Book of Best New Horror #22 …

"What Will Come After" got under my skin and into my blood faster than any zombie virus ever could. It's a live human and undead zombie story all mixed together. Actually, it's more of a meditation on inevitability than anything else. I found it both frail and strong at the same time—all very affective and certainly unforgettable.
If you can't find a copy of The Mammoth Book of Best New Horror #22, you can always catch up with the story in my all-zombie collection of the same name, either in a print edition or as an ebook.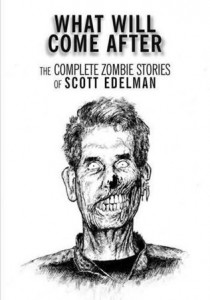 The review is credited only to "DC5," so I don't know quite whom to thank, so whoever you are, all I can say is—you've got … BRAINZ!
Originally published at Scott Edelman. You can comment here or there.