Last night, Irene and I headed over to what was dubbed an Irish Fest of the Future, hosted by Tom Doyle and Beth Delany. Since we were asked to dress according to the theme, I adorned myself with little green men. As you can see in the photo below, in addition to green clothing and a brown derby, I wore Yoda, Braniac 5, and one of those cute aliens from Toy Story.
Also—you'll note a certain green-haired wench on my arm … one who's likely to smack me around for calling her a green-haired wench. (Thanks to Karen Wester Newton for the pic!)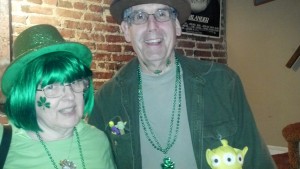 The catalyst for the theme was that Tom's a recent winner of the Writers of the Future competition, and will be heading to L.A. next month to take part in the awards ceremony. So last night, when he wasn't leading us in singing "Fairytale of New York" and "The Wreck of the Edmund Fitzgerald," he read the opening to his story.
St. Patrick's Day may be over, but that's no reason not join in the celebration now below!
Originally published at Scott Edelman. You can comment here or there.