The first day of programming for the 2012 World Horror Convention wasn't going to begin until 3:00 p.m. Thursday, so at 9:30 a.m., I threw myself out on the streets of Salt Lake City. I didn't return to the hotel until 1:00 p.m., having spent 3-1/2 hours jumping on and off buses and street cars, getting lost as none of them took me quite where I wanted to go, walking around 4-1/2 miles, having lunch for breakfast, and hunting the elusive ukulele.
I was going through ukulele withdrawal, so I had this crazy idea that I'd visit a music store about three miles away, pick up one of their extremely cheap bottom-of-the-line ukes so I could continue to practice each day, then give it away to some kid before I flew home. But due to that getting-lost thing, I never made it there. So I abandoned my plans and instead headed to the first stop on my Man V. Food tour of the city—Bruges Waffles and Frites, where I began my day with their famed Machine Gun Sandwich, which is "a fresh baguette stuffed with: 2 merguez (lamb) sausages, fries, andalouse sauce."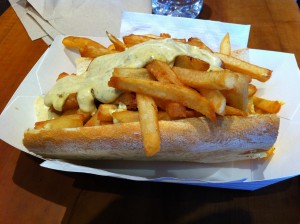 Yes, there are two spicy sausages buried somewhere under there! (Adam Richman did NOT let me down.)
From there, I headed off to Intermountain Guitar and Banjo (which was much easier to find than that other uke place) to check out their collection of vintage ukuleles, including this 1929 Gibson banjolele.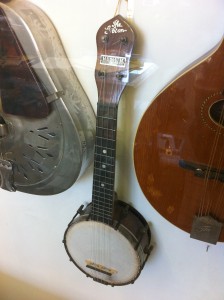 But I'd made the mistake of showing up on a day the uke specialist wasn't there, so I didn't get to lay my hands on any of them. I might sneak back Friday afternoon, though, when there's a break in the horrific con festivities.
When I returned to the hotel at 1:00, I immediately left again with Jeff Strand, Lynne Hansen, Gabrielle Faust, Stephen Kling and Derek Clendening so they could experience Bruges (it's that good), followed by much schmoozing in the halls until the 6:00 p.m. opening ceremonies … which you can watch below whether you were in Salt Lake City or not.
Then I took off for dinner with 1979 Clarion pal Gene O'Neill (have we really known each other for 33 years?) at Crown Burgers, followed by more schmoozing with the endless parade of friends back at the hotel.
I didn't see any panels or readings Thursday, though I did stick my head into the con suite to catch the entertaining performance of the horror band Zombiance, who sang "Welcome to the Madhouse," "Zombie Girl," and the Lady Gaga parody, "Dead Romance"—plus a bunch more songs I never got to hear because my ears had begun to bleed. (In a good way. But still.)
Check them out below.
After that, more schmoozing (of course!) until the yawns began to so punctuate my conversation that I took it as a sign to crash.
And now let's see what Friday brings!
Originally published at Scott Edelman. You can comment here or there.