As our Peru trip tour bus made its way through the streets of Ollantaytambo last week on its way to the Inca site known as the Fortress, I spotted … the Batmobile!
Well, not the Batmobile. More like a Batmobile—a small taxi with a rear window in the shape of the Bat symbol. I wasn't quick enough with my camera to snap a photo, however, and when we headed back after our climb, even though I was vigilant, I didn't spot it again as we meandered through the small town. And that, I thought, was that.
But later in the week, as we bussed toward Cuzco after our stay in Machu Picchu, I spotted five other similar vehicles with Batman decorations in small towns along the route. I was only fast enough snap a shot of this one, but it'll give you an idea of what I mean.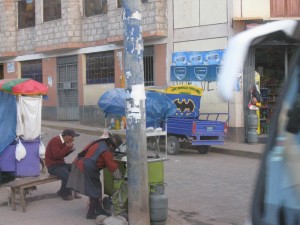 But those half dozen vehicles weren't all.
Because later in the week, as I stepped from the Convent of Santo Domingo in Cuzco, I saw this bus momentarily stopped in traffic.
Before it could pull away, I was able to snap this side pic as well.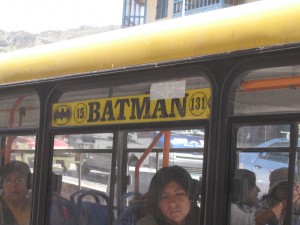 I had no idea why these Bat-vehicles were all over Peru, and now that I'm back home and have had a chance to search online for a reason, I'm still not entirely sure. Various sites report that:
If you are staying in Cuzco for a long time, the Combis are a cheap and reliable form of transportation. These are the Volkswagen vans and small buses with names like Imperial, Batman, or Zorro.
OK, so I get that they exist. But that doesn't really explain why they exist. Is Batman a revered character in Peru? Were the comics, movies, TV shows, etc., major cultural influences? If you have any theories, let me know.
But there was still one final Batman to come. While wandering Lima's Miraloflores LarcoMar Mall, I ran across this game in an arcade.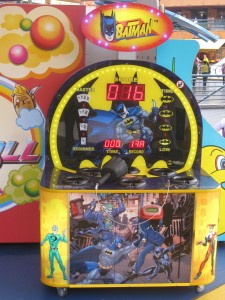 Unlike the Bat-vehicles, which I assume to be copyright infringements (tell me if I'm wrong, please), this superhero version of Whac A Mole is an officially licensed product.
And yes, I did proceed to bop the Joker, the Riddler, and even Harley Quinn. But then, you knew that I would, right?
The same way you knew I would eat all the guinea pig I could get my hands on …
Originally published at Scott Edelman. You can comment here or there.