Remember how miserable I was when I found myself ukulele-less in Salt Lake City? My withdrawal symptoms gave me the shakes. I was determined not to let that happen again, and yet, I didn't want to lug my concert-sized uke to Peru.
Luckily, one of my new UK friends, found through George Formby fandom, recommended that I purchase a tiny Kala pocket ukulele, created just for that purpose.
Which I did!
And so if you were in Peru the first week of May, you'd have found me holding my uke aloft at Machu Picchu …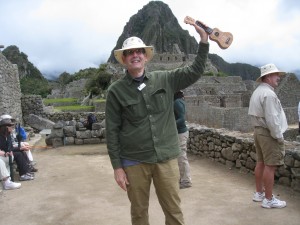 … along the Inca Trail, in front of a backdrop that seemed perfect for a performance of "When I'm Cleaning Windows" …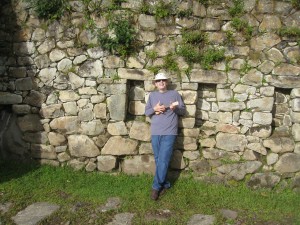 … and at Intipunku, the Sun Gate, with Machu Picchu far below in the distance.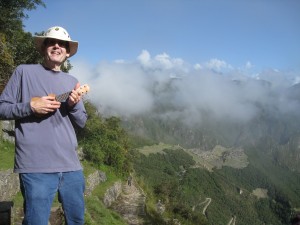 But don't worry—I did not destroy the serenity of the site by strumming when others were about … only when I found myself alone on the trail or when I was in my hotel room.
Sadly, though I played a song and attempted to capture video of the performance to prove that though I'm not the best interpreter of George Formby, I've likely performed him at the highest altitude, my Flip died in the middle of recording. So, no evidence!
Which is probably just as well …
Originally published at Scott Edelman. You can comment here or there.