It occurs to me that since I've told you what I ate in Peru, from multiple servings of guinea pig to a marvelous meal of octopus and goat, I should also tell you what I didn't eat.
So … where did I draw the line?
At a crowded food stall in Cuzco's main market, I found people slurping away at bowls of soup beneath the following sign.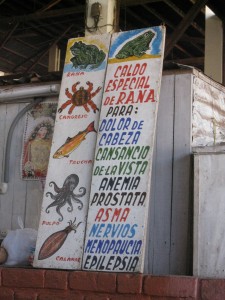 And why not? Who wouldn't want to be cured of epilepsia or dolor de cabeza?
But the problem was … well …
You know the old saying that if you eat a live frog first thing in the morning, nothing worse will happen to you the rest of the day?
You do? Then you'll know what I saw beneath that sign, eagerly waiting to be dropped into my soup.
That's right.
Frogs!
I decided to let them live another day. Or another few minutes, until some local bought a bowl of soup in hopes of being cured of prostrata.
Are you disappointed in me?
Originally published at Scott Edelman. You can comment here or there.