Last weekend, when I wasn't schmoozing with friends at SFWA's Nebula Awards weekend, I was off at the nearby Artomatic, an arts installation I'd heard about in years past but had never managed to attend. Since the last Artomatic was in 2009, and who knew when I'd ever be spending a couple of nights just a few blocks away from one, I knew I had to sneak over.
What is Artomatic? It's 1,300 artists taking over an 11-story building that's soon to be demolished, and surprisingly, amid the tens of thousands of works of art, plenty of science fiction, fantasy, and horror turned up. In an effort to get those who come here to read about those sorts of things to drop by—Artomatic runs through June 23—I thought I'd share a fraction of the art of the fantastic that I spotted.
(To my great horror and regret, after I got home, I discovered that I'd misplaced some of the artists' names, so in the event you do head on over to Artomatic and see some of the paintings I've included below without attribution, could you please let me know the names of the creators. Artists need all the publicity they can get! All artists have now been identified. Whew!)
"Darth Vay-Deer," by Isaac Otto Lange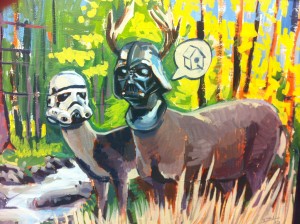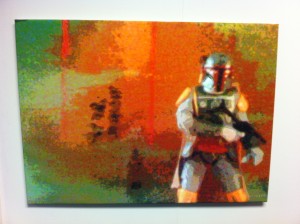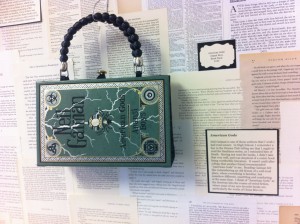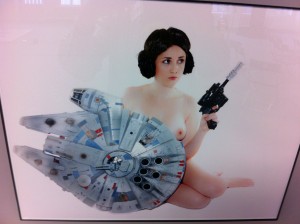 Science Fiction Age and Realms of Fantasy artist Annie Lunsford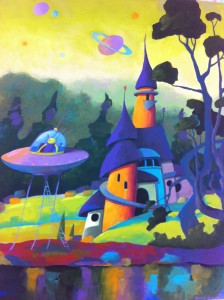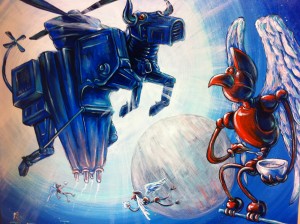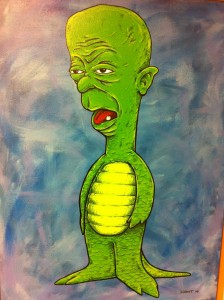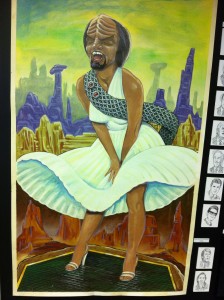 So there you have it—nine reasons you should visit Artomatic this year. It took me around six hours (about half of them with Liza Groen Trombi) to make my way through six of the building's eleven floors, and believe me, there was a lot more where these came from.
In fact, I'm thinking of heading back there myself some upcoming weekend …
Originally published at Scott Edelman. You can comment here or there.