Since I'm always bitching to you when I see fine art interpretations of comics go for big bucks while images by the artists who toiled in the field go for peanuts—as when I complained that a pop artist's version of Green Lantern sold for 7,723 times more than one by the man who created the character—I owe it to you to share that for once, the comics field won.
You may have heard that a page of Jack Kirby and Joe Sinnott artwork from Fantastic Four #355, one starring the Silver Surfer, was sold earlier this month by Heritage Auctions for $155,350.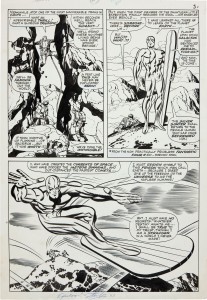 But what you might not know (and what I only just remembered) is that Sharon Moody, a fine artist about whom I've written at length before, is either offering for sale or has already sold her own interpretation of that same page.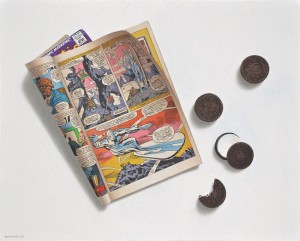 I have no idea what her version is going for/went for, but since most of the paintings I saw during my visit to her gallery were listed at the mid- to high- four figures range, I think I can safely say that in this instance, a comics artist came out on top (though neither Kirby nor Sinnott nor their heirs saw any of the money, of course) by a margin of around 20-1.
Can you forgive me for being pleased?
Originally published at Scott Edelman. You can comment here or there.