I went to Theater J on Sunday to catch a matinee performance of The History of Invulnerability, a play based on the real-life tragedy of how Jerry Siegel and Joe Shuster got screwed out of the rights to Superman, and my feelings are complex. What isn't complex, though, is my feeling that you should rush to see it if you can, so let's get that out of the way first. The final performances are on July 8, so you have a few weeks, but don't dawdle. It's well worth your time.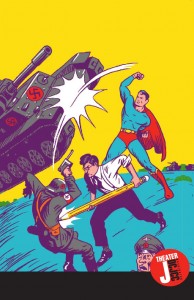 But I've been wondering, as I struggle to parse my reaction to this play, whether it's possible to be too close to the material to see it clearly.
Oh, who am I kidding? Of course I'm too close to the material to see it clearly! I've been a hardcore comics fan as far back as I can remember, I was working in comics when the first Superman movie was about to be released and justice was being demanded for Siegel and Shuster, I already know all the crimes committed against the Man of Steel's creators, and last year I even attempted to win some of Jerry Siegel's hair at auction!
Plus (and this ought to give you an idea of how invested I am in this shameful tale out of comics history) I already had such a feeling of hatred for Harry Donenfeld and Jack Liebowitz going in that I literally started hissing at a certain point when one of them took the stage and started speaking, and had to squelch that visceral reaction once I realized what I was doing. So I don't come to this play with a clean slate, able to judge this play the way I would a different one not based on a topic already embedded in my DNA.
After all, when seeing a backdrop filled with comic book panels or having a guy leap forward in a Superman suit is enough to make me a little verklempt, I feel as if I'm already predisposed to fall in love with what I'm about to see, so perhaps I can't be trusted. Of course, on the other hand, I also know so much about the source material that I might also be biased against the choices made by those who had to craft the facts into a different kind of truth. My hope is that those opposing pulls balance each other out, but there's no guarantee of that.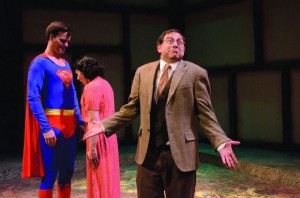 Because I arrived at the theater as the fan who knew too much, I had questions before the show even began. Why make Jerry Siegel the central figure of the story of Superman, when Joe Shuster's tale was equally as tragic (which I've written about before), and the two men were partners? Also—we know the story's beginning, but how can it possibly have a satisfactory end when the battle for the rights to Superman is still ongoing, with heirs of both men continuing to argue the case in court? These and other questions were surely not ones the rest of the audience was asking, as those folks appeared for the most part to be theatergoers with no particularly special interest in the story behind what they were about to see. But the questions mattered to me, and I knew I'd only consider the show a success if by the time I left, they were answered to my satisfaction.
So … were they?
The show begins with a silhouette of Jerry Siegel (David Deblinger) in a wheelchair, and a caption telling us that it is two hours and 15 minutes before his death. But then Superman (Tim Getman) appears to tell us his history, and soon Siegel, young again, takes the stage to banter with the Man of Steel, debating, as we are told the history we know so well—how by accepting $130 for all rights to their creation, Siegel and Shuster sealed their doom—not really the facts of the matter, but the meaning of those facts. Was Krypton's destruction an allegory for the Jews being exiled from Egypt? How much of the creation of Superman was an attempt at Jewish assimilation into American culture? Why did Siegel apparently abandon his son from a previous marriage? (Real-world Joanne Siegel disagreed with the way Siegel's son described the man's treatment of him.) Did Siegel create a hero because of his feelings of helpless at his own father's death and were those feelings exacerbated by his inability, by Superman's inability, to stop the Nazis?
During the play, Siegel, Shuster, Siegel's son Michael, Donenfeld, Fredric Wertham, Elia Kazan, Thornton Wilder and other personalities from the convoluted history of Superman have their say upon the stage, and though I have minor quibbles based on bits of comics lore, for the most part, it works. But there's a point at which writer David Bar Katz makes a bold choice. He imagines that a child in a concentration camp comes upon a Superman comic, believes the character real, and tells those around him that the Man of Steel is coming and their rescue is near. We return to iterations of this hopeful scene repeatedly, as Siegel talks of how he wasn't allowed to introduce real-world themes into the comics, and he and his creation share the circumstances that eventually allowed Superman to come face to face with Hitler.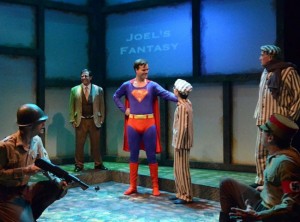 These two worlds, the one in which Siegel and Shuster fight for their rights and eventually gain some small closure as a result of the first Superman movie, and the one in the concentration camp, eventually collide, and the play ends with a final scene, a final moment, that I won't spoil for you. I'll only say that while from my perspective that dramatic choice didn't make logical sense to me (and no, not because it was the happy fantasy ending you might be imagining), it does make an emotional sense, and that tension I see between the logical and the emotional is one of the reasons my response to the play is so complex.
What has helped me to accept Katz's decisions as a playwright and the choices he made in crafting an understandable arc out of a complicated narrative is that I've come to realize that everything we're seeing is being played out on the stage of a dying man's mind. Katz isn't necessarily privileging Siegel over Shuster—a dying Siegel is. For are we not all the protagonists of our own lives? And as for the ending, the one that seemed to me to make emotional sense rather than a strict logical one … so what if I might have chosen to send an audience on its way with a different sort of closure, one born more of history than of allegory? This is a dying Siegel finding closure in reaction to the life he led. And therefore, upon reflection, I accept it.
Will you? I can't say. But the acting, directing and design of The History of Invulnerability are all top notch, and to repeat what I said in my initial paragraph, if you're reading my blog, you're likely the kind of person who shares enough of my interests that you owe it to yourself to find out.
Until you do (and for those who'll never be able to), here's a brief video gathering snippets of various scenes from a production of the play mounted a few years ago. At least it'll give you a taste.
And if you do head over to Theater J and catch a performance, please let me know what you thought!
Originally published at Scott Edelman. You can comment here or there.