There's a new wrinkle to the war against Jerry Siegel and Joe Shuster and Superman that goes beyond what's in the play The History of Invulnerability, which I told you about earlier this week. It seems Ohio wants to offer a special license plate commemorating that state as the "Birthplace of Superman" for the 75th anniversary of the creation of the Man of Steel, but DC Comics and Warner Bros. have objected to the wording.
Nate Beeler, a staff cartoonist for the Columbus Dispatch commented on the brouhaha with the cartoon below, which I spotted over at Daryl Cagle's blog.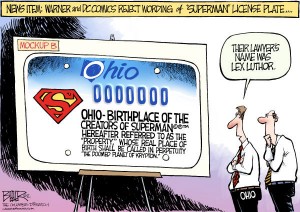 No one's really sure why there's an objection to the wording of the plate, but Ohio is attempting to come up with an acceptable alternative. Beeler worries that those alternatives might also be found unacceptable:
Everybody knows Superman is a fictional character who comes from the fictional planet Krypton and grew up in the fictional town of Smallville. What people might not know is that he was created in Cleveland by the legendary Jerry Siegel and Joe Shuster. The license plate is a nice way of bringing attention to the great cultural contribution of these Ohioans. If the wording is changed to something like "Birthplace of the creators of Superman," I just hope that DC Comics won't object by saying, "But Superman's parents, Jor-El and Lara, were also from Krypton!"
As for me, there's something I find unacceptable, but believe me, it ain't the slogan.
Originally published at Scott Edelman. You can comment here or there.