Someone took a look at my Twitter icon last night and said, "Hey, that doesn't look like you!" Well, it did … once. Or who knows, maybe it didn't, and perhaps only Marie Severin thought so. Because that's how she drew me back when dinosaurs still walked the Earth and I left my job in the Marvel Bullpen.
Here's the long-ago going away card she cooked up when I quit to become a full-time freelancer.
I can sometimes grow melancholy if I look too closely at the signatures on the card, since so many—Dave Cockrum, John Verpoorten, Archie Goodwin, for example—are gone.
Of course, many are still with us, such as my wife there in the upper right corner, and even good old (seemingly immortal) Stan Lee in the upper left corner.
But that's not the only signature-festooned card I received during my time at Marvel …
Paty a.k.a. Paty Cockrum a.k.a. Paty Greer drew a birthday card for me one year, showing off the shaggy hairdo I wore when I started at Marvel and which was my signature look for much too long.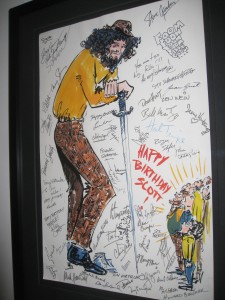 It, too, can bring on bittersweet memories, what with its own mix of the dead—Steve Gerber, Danny Crespi, Duffy Vohland, Vinnie Colletta—and the living—John Romita, Chris Claremont … and hey, there's Irene again!
Anyway … yes, I did used to look like the caricatures in those images. And if you were to somehow peek inside my soul, I think you'd see I still look a lot like them both even now.
Originally published at Scott Edelman. You can comment here or there.