So there I was at 9:00 p.m. last night , once the 100-degree temperatures of the day had dropped to the 91 degrees of twilight, watering our recently planted thujas in the hopes they'd survive what now seemed an Arrakis-like environment, when there was a flash of light, and eventually thunder.
What was this? I'd known nothing of an approaching Friday night storm, but just in case it was only a tease, I finished watering the four thujas—the count from light to sound told me any storm was still 13 miles away—and then I checked online.
Where I discovered that we had a 70% chance of a severe thunderstorm within the hour, with heavy rains, hail, and winds reaching 70 miles per hour threatened. So I didn't bother doing any other watering beyond those saplings, but instead settled on a couch in the living room, looking forward to reading John Scalzi's Redshirts.
And then the storm began. And then the lights went out. And then the heavens really opened.
And then we heard a tree come down.
After an hour, it all subsided to a standard rainstorm. And in the morning, this is what we found.
First, the view on the street. This is what you would have seen had you come to visit us, as a neighbor's tree dropped and closed the road.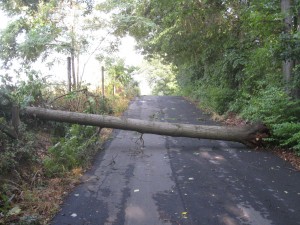 Here's what now blocks the driveway, preventing you from reaching our front door.
Here's what came down in our front yard.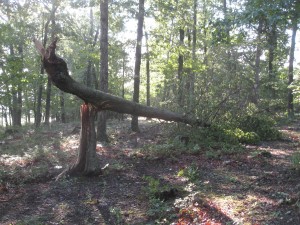 And here's a tree in the backyard that broke about 25 feet up its trunk, nearly smashing our birdbath when it fell.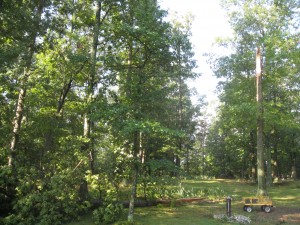 We ended up with all or part of around eight trees down. Luckily, none hit the house.
There was a casualty, however—one tree toppled and took out a bench, shattering it.
Imagine yourself sitting here …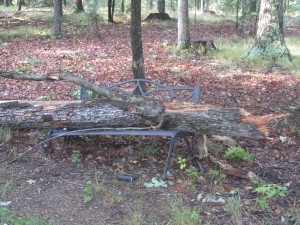 The power's been out 20 hours now, and I'm posting this from a cybercafe in the next state. There's no estimate of when power might be restored. I've heard it might take as long as a week!
If so, that means I'll be back here on Monday, putting in a 12-hour workday, which while convenient, will be far from comfortable.
Currently, 18,344 of the 53,215 households in Berkeley County are without power. Let's hope those numbers shift drastically over the next 24-36 hours.
Or at least shift by one.
Originally published at Scott Edelman. You can comment here or there.