Originally published at Scott Edelman. Please leave any comments there.
I'd planned to fly down to Florida Saturday afternoon, and was going to be spending today working on Blastr from my mother's dining room in Boca Raton instead of my home office in Glengary, West Virginia. I'd have had no trouble getting south, but you all told me there was no way I'd be able to get back north again tonight, even though based on initial reports, it didn't look as if things were going to get bad around here until tomorrow.
So based on your advice, I went ahead and canceled my brief trip, and it's a good thing I listened to you …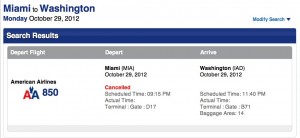 I only hope the same thing doesn't happen to my 8:08 a.m. flight Thursday to Toronto. I have too much fun planned there, both at the World Fantasy Convention and at some mighty fine restaurants!
As for our safety here, don't worry—we're on high ground, and won't flood unless the whole country's under water. And since our most fragile large trees got taken down by the derecho, we should be safe as far as the wind is concerned, too.
I hope you're safe today wherever you are as well!