Originally published at Scott Edelman. Please leave any comments there.
When it came time to figure out where I'd be eating while in Toronto for the World Fantasy Convention, I knew that in the midst of all the fine dining I had planned, one stop was going to have to be at the city's best burger joint. (Finding a great burger has always been high on my list when traveling.) But which restaurant would that be? I tossed the question out on social media, and though there was intense disagreement—you'd have thought that I'd started a discussion on the presidential election—the consensus settled around The Burger's Priest.
So last Thursday morning, for my first meal in Toronto, I bombed into town from Richmond Hill with so many co-conspirators we needed two cars. When we reached Burger's Priest, I was surprised to find it was take-out only, with nowhere to sit, and soon realized that there were two locations—one which apparently seats around 20 over on Yonge Street, and the one we ended up at on Queen Street East. But as that wasn't going to affect the taste of the burgers, I didn't really care. Besides, all those parked cars filled with people chowing down on their burgers told me this was food worth eating whether it had to be done sitting, standing, or running in place.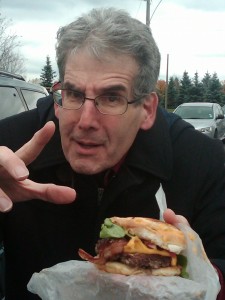 Our group squeezed into the small and already-crowded storefront, and while some of my friends studied the menu, I had no need to. I'd already taken a look at the so-called secret menu, the one that only appears online, and had decided on a Vatican City burger, which is "a double cheeseburger squeezed between two grilled cheese buns." And as we'd made our way to Burger's Priest, one of my friends read aloud from that menu on her phone, and so planned to order a Magnum, which is "a regular hamburger plus blue cheese and bacon."
When I placed my order, it got a reaction from the servers. I don't mean they acted impressed or anything like that, but it was an indication that they realized I wasn't just an American who'd wandered in randomly, but was someone eating there because I wanted to eat THERE. As for the toppings, I got it with the works. Why not? After all, this was a burger I'd crossed international borders for.
We returned to my car, where I unwrapped my prize on the hood, while some of my friends huddled in the car against the wind. I didn't join them, because I knew that with a burger like this, the juices and toppings would have ended up in my lap.
And so behold—the Vatican City Burger.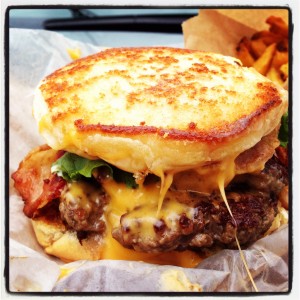 It was glorious! Those grilled cheese buns were not, as some of you might think, too much, but rather added just the right amount of gooeyness to two perfect patties. It might—and I say might—have been the best burger I've ever had. It was so good that it made me think a trip to Columbus, Ohio was needed so I could try another Thurman Burger at the Thurman Cafe and see if the memory of it as the ultimate burger stood up.
Now as for the accompanying fries, I have to admit that I was a bit disappointed. Not that they weren't good fries, and at any other restaurant I'd have found them acceptable, but a burger that good deserved great fries, and so paled by comparison. What might be the best burger I've ever had should have been accompanied by the best fries I've ever had, and these weren't those. But I'll take responsibility for that—none of my friends expressed any disappointment, probably because their expectations weren't as high.
If I'm ever in Toronto again, I'll definitely return. Only this time, I'll head over to the Yonge Street location. Because while a Burger's Priest burger is definitely worth eating off the hood of your car, I don't think it's mandatory!