Originally published at Scott Edelman. Please leave any comments there.
When I began making plans for where to eat during my recent Toronto trip, the first restaurant on my must-hit list was The Black Hoof, famous for its offal. Who could pass up roasted bone marrow, foie & nutella, and spicy horse tartare?
As it turns out, lots of people.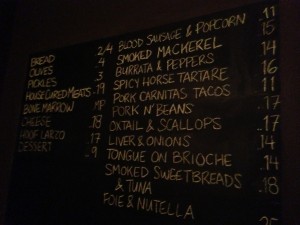 I'd rented a car so I could more easily get from my hotel in Richmond Hill to downtown Toronto, which meant I'd have plenty of room when it came time to hoof to Hoof Thursday night. Cecilia Tan was in the moment she heard about the menu, but as for those other spots in the car? They turned out to be not so easily filled. Nearly every person I asked to join us gave me one of those "Are you out of your mind?" looks, and said things like, "Yeah, right" or "Suuuure … "
Luckily, I bumped into first Mike Willmoth and then Jim Minz, both of whom proved to be as enthusiastic about offal as Cecilia and I were.
The Black Hoof stays open until 1:00 a.m. Thursday nights, so we felt safe arriving at around 10:45 p.m., though the note on its site, "Our hours are just a little odd/Check 'em twice just to be safe" did have me a little nervous. Not sure where we would have parked at a more civilized hour, but by that time the neighborhood was deserted enough that we could squeeze into the church parking lot next door. The joint was still jumping, though most of the patrons were at the bar. We were led to a table in the back beneath the menu, and began the process of deciding … well … not really what we wanted to eat, but what we thought we could eat, because we would have been willing to try everything.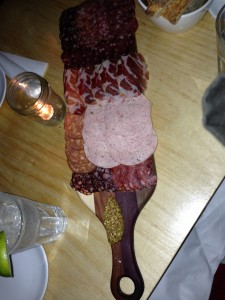 First up, a large selection of house cured meats. My favorite of the spread was the pig heart sausage, which was so rich I felt as if I was chewing on life itself.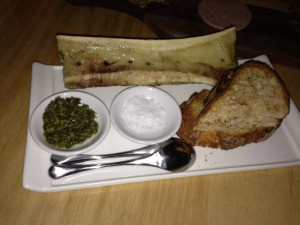 Next up, the roasted bone marrow, which was the point I realized that others listening in nearby with eyes closed might have been confused into thinking they were overhearing an orgy, so loud and enthusiastic were the moans and groans.
As you can see, I was unwilling to leave even a smear of marrow behind …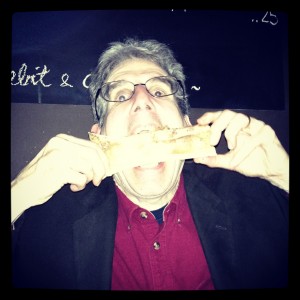 Our next dish—the smoked sweetbreads and tuna—was attacked and devoured so quickly it wasn't until I fell back in my chair that I realized I hadn't snapped a photo. So you'll just have to imagine it. But the dark smokiness of the sweetbreads and the lightness of the tuna contrasted perfectly.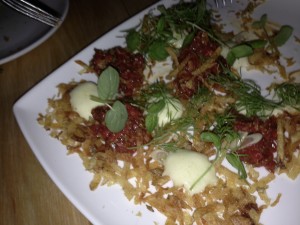 Next up, the dish that I think most frightened those friends who were unwilling to join me—the horse. I was worried—by virtue of the word "spicy" in the description of the dish—that it would be very spicy, and mask the flavor of the meat, preventing me from learning what horse tasted like. But it turned out to be only mildly spicy, and I found out that horse tartare didn't, to my untrained palate, taste very much different than steak tartare. The experience for me was more one of texture than flavor, and the soft ground meat worked well with the bed of crispy potatoes on which it sat.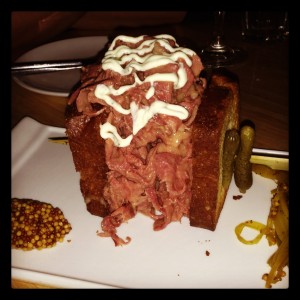 Our penultimate dish was the Foie and Tongue, which was mounded between thick slices of brioche and held together by a skewer with pickles at both ends. All of the dishes were sensual experiences, but this was the star of the evening. I think it was during this course, when the waitress dropped by to see how we were doing, that Jim whispered to her, "I love you." I've never had better tongue, so soft and delicate that no chewing was required, as if each salty slice ate itself. This was the course during which the slurping and moaning reached its height.
We closed with the most unusual dish—foie and nutella. All of us thought … what's up with that? But as a sign on the wall indicated, those two ingredients are BFFs.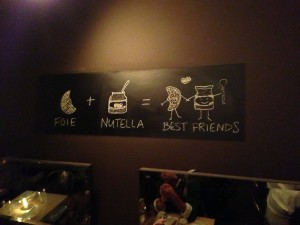 Though it doesn't get billing in the name of the dish, it's served with warm banana bread between the foie and nutella, and when I popped my first taste into my mouth, the (seared, I believe) foie exploding, well … let's just say a groan burst uncontrollably from my lips creating a sound I don't think I've ever emitted outside the bedroom.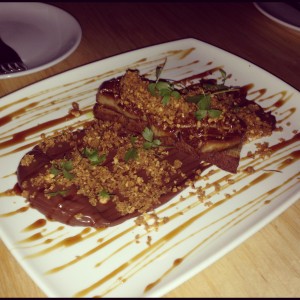 If all this gives you the idea that our visit to The Black Hoof was an extremely sensual experience, you'd be right. When we were done, I felt ready for a cigarette.
And I don't even smoke.
My only regret is that there was no way we could possibly have eaten anything more. And so, no blood sausage and popcorn, no oxtail and scallops. Those will just have to wait for a future trip. And you can be guaranteed that if there is one, The Black Hoof will be a part of it.
I can't see visiting Toronto without at least one meal there. What would be the point?