Originally published at Scott Edelman. Please leave any comments there.
Somehow, I've ever made it to Momofuku Noodle Bar in New York, so when I saw that a branch would be opening in Toronto while I'd be there for the World Fantasy Convention—which I only learned about because of my daily reading of the food porn site Eater—I knew I'd finally get inside a David Chang restaurant. But I decided that before heading to the Noodle Bar for lunch, I'd see whether I could get reservations for the evening tasting menu at Momofuku Shoto.
I was able to do so, which required diligence, though nothing like the obsessive/compulsive checking of the Internet that was required to get into Alinea and Next. To book seats at the U-shaped Shoto counter means logging on to the Momofuku site at exactly 10:00 a.m. 13 days before the date you're seeking. So at 9:59 a.m. on Sunday, October 21st, I was hitting refresh, refresh, fresh until the site allowed me to book seats for Saturday, November 3rd.
Which was a relief, because I wanted to see Momofuku while it was all shiny and new, with excitement still in the air about a new adventure just begun.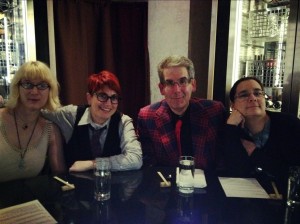 My co-conspirators for the evening were Charlie Anders, Annalee Newitz, and Cecilia Tan (who also joined me for my orgy at The Black Hoof). We experienced an amazing meal, but what's most alive in my memory isn't just the food (which I expected), but a strange encounter in the Men's room (which I did not). But I'll get to the urinals conversation in a bit. First, the food.
Actually … first, the maitre d'.
When we arrived slightly late at the third floor of Momofuku and announced we were there for Shoto, we were asked how we were doing, I said I was fine now that I was there, but that the traffic and parking had been maddening. I'm sure I presented as a little rushed and out of breath, and was immediately told … now that you are here, everything will be fine, take a deep breath, relax. Which was a welcome greeting, and I felt all cares falling away as we were led to the counter behind which half a dozen chefs bustled.
I'm not going to recap every dish, because there wasn't a single one that disappointed, and I'm sure you can discover complete info elsewhere if that's what you're looking for. So let me just tell you about my three favorites.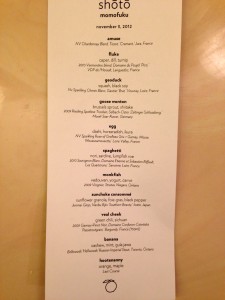 The goose wonton with Brussels sprout and shitake tasted … well … they had me at goose. I didn't use the chopsticks, instead simply lifting the bowl and slurping the wonton down. Its flavor caressed my tongue, its warmth radiated through me, and I was at peace.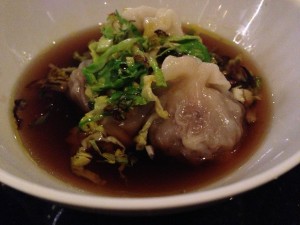 The spaghetti with nori, sardine, and lumpfish roe had me thinking … how can I ever eat spaghetti in my own home again? All other pasta would pale. The sardine was wonderfully salty, and all the flavors were in harmony.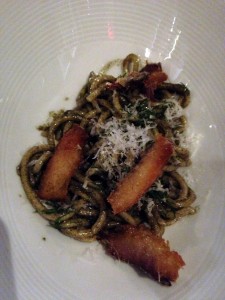 But the star of the evening—which had me seeing God—was the 36-hour sous vide veal cheek, the final pre-dessert course, which sort of snuck up on us. We'd noted a bubbling tank at the far end of the kitchen, realized something was being cooked in its warm waters, but had no idea what until our plates were placed before us. I ate it slowly, not wanting the food orgasm—complete with goosebumps—to end.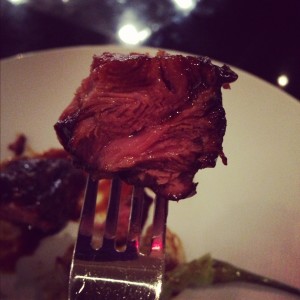 Desserts followed, but as far as I was concerned, that veal cheek was the true dessert.
As we departed, we were each given sealed condiments—such as kim chi and pickled cauliflower— to take home, as can be seen in this photo snapped by Al Bogdan as I told and retold the story of our marvelous meal. (Though Rajan Khanna didn't seem to mind.)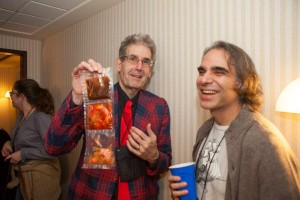 But what (I'm sure you're thinking) about the aforementioned conversation at the urinals?
Well …
Midway through the meal, I headed to the Men's room, and as I was standing by the far right urinal, I heard a deep voice ask, "So what do you think?"
I looked over, and at the far left urinal was a beefy guy, taller than me, looking in my direction.
"I'm enjoying it," I said.
"I'm kinda disappointed," said he.
"Oh, really? Why?"
He shrugged.
"Eh … I'm just disappointed." He then went on to say that he'd already eaten at Shoto twice, and he was only going to give it one more chance. (Which, at $150 per tasting menu, is mighty generous for a restaurant that disappoints you.)
As we washed our hands, I tried to get him to explain exactly what was so disappointing, and he'd only say that he was in the business and had opened many restaurants himself, but I was unable to get much out of him other than that he preferred the way Thomas Keller did things. Which puzzled me until I later discussed it with my friends, who felt what he was trying to say was that he didn't like the pulsating rock and roll energy of a David Chang kitchen, preferring the quiet, contemplative atmosphere of a Keller kitchen instead. (But in the absence of details, we couldn't be sure.)
I mentioned that I'd recently been to Alinea and Next, figuring that if he saw the level of foodie I was, I might get some specifics out of him, but what he said next was his strangest statement of all.
In a blase voice, showing about as little enthusiasm as it's possible for a voice to show, he responded, "Alinea is okay."
He might as well have just said, "Meh."
Alinea … which was just given a 3-star Michelin rating for the third year in a row … only okay?
Who was this guy?
He'd said he'd been responsible for opening many restaurants in the past and was about to open more, so I asked for his name and the names of his restaurants, telling him I wanted to track down his work so I could get a better idea of how he thought a restaurant ought to be run. But he'd only tell me his first name.
Max.
I got the feeling the guy realized he'd said too much, so I wasn't even sure his name was really Max. (Anyone out there know a tall guy named Max in the restaurant biz in Chicago?) Regardless, the encounter sure added a strange twist to the evening.
Because if Momofuku Shoto is "disappointing" and Alinea is only "okay," what kind of chef are you, really? (Other than a very bored chef, I guess.)
Alinea is far more than "okay." And Momofuku Shoto was far more than "disappointing."
Trust me on this.