Originally published at Scott Edelman. Please leave any comments there.
There isn't much I'd wake up early for on Black Friday. In fact, except for the chance to experience what I experienced last night, I can't recall ever bothering before.
But Bryan Voltaggio, whose Frederick restaurants Volt, Family Meal, and Lunchbox I'd eaten at and loved before, was opening a new D.C. restaurant, Range. He'd sent out an email to his customers offering a chance to take part in a pre-opening preview dinner, and I wanted in. So there I was, sitting at my computer before 5:00 a.m. on Black Friday, hitting refresh, refresh, refresh until I scored a 5:30 p.m. reservation for four on the first of three preview nights.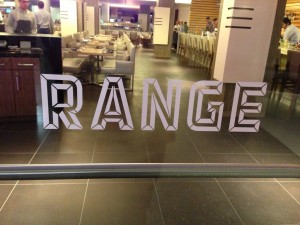 After studying Range's awesome menu, and realizing I wanted to try a far greater variety of dishes than would be possible during a normal dinner, I had a plan—I'd bring along a cooler, order way too much food, practice restraint, and treat the meal as best as I could as a tasting menu, waving away half-eaten dishes and creating tons of leftovers. Which, amazingly, I managed to do, thanks in part to one of the friends who'd joined us, who reminded me now and again of how we'd promised to pace ourselves.
And so, last night at 5:30, Irene and I found ourselves happily seated at a table at Range, looking forward to the wonders chef Bryan Voltaggio's crew was going to prepare for us.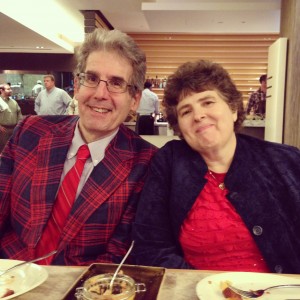 Our server explained that though the restaurant would be able to deal with 300 customers at full capacity, the first of the preview nights would only serve 130 as the crew got up to speed. We had no problem with being guinea pigs, and because of this found whatever slips in the level of service that occurred (most of which will go unmentioned, because it just wouldn't be fair) to be endearing rather than troublesome.
And since the food was amazing, everything I hoped it would be, causing quite a few moans that it's perhaps best one only utters when among friends, I had no problem with being part of helping the crew figure out how to operate in this new environment. In fact, I enjoyed watching the learning process.
We started off with the tasting of hams, dry cured meats, and terrines …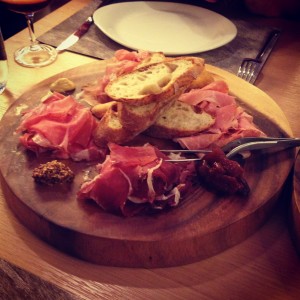 … which included a rich, creamy potted foie gras worth any lecture about cholesterol from my doctor.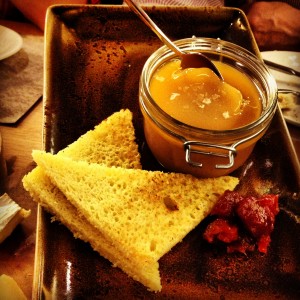 We followed that up with goat cheese ravioli over braised meat ragu …
… plus lobster mac and cheese, the latter of which was one of the stars of the evening—large chunks of lobster with al dente pasta in an extra-sharp cheddar sauce. We all agreed that if unshared, it would make a wonderful lunch all by itself.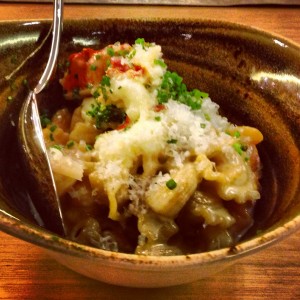 Then it was time … for meat! One of the dishes I'd most been looking forward to was whole rabbit, hunter style. Both because, well, I wasn't entirely sure what "hunter style" meant, but also since I had no idea whether such a dish would remain on the menu as time went on if there wasn't enough demand. So it was one of the musts for the night.
As it turns out, rather than having an entire rabbit brought to the table where I imagined we'd be ripping chunks of meat off a carcass, it was served deboned, mixed with fines herbs and the fat from the back haunches and served in thick slices. To my untrained palate, it seemed like a cross between a sausage and head cheese, but whatever the true term for it, it was rich, flavorful, and comfortingly dense.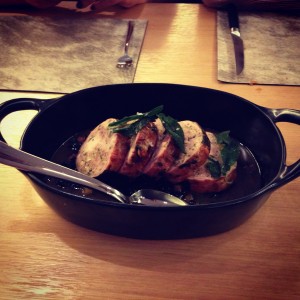 Next up, veal heart, chimichurri, which I felt I had to order, both because I'd never eaten it before (which always comes into play when I'm ordering), but also out of my fear that the demand might not be great enough for it to remain on the menu.
It proved less popular with my companions than it did with me, but that might be more because of the idea of eating a heart rather than the actuality of it. As for me, it was a primal experience, so I was lost for a few moments, off on my own, communing with the beast that yielded it up, gorging on the stuff of life.
Another of the stars of the night was actually a dish we hadn't expected to arrive at our table—leg of lamb, root vegetable puree, sea beans. In one of those slips I referenced above, we'd actually ordered a different lamb dish, but the mix-up proved quite serendipitous, as it left us all raving.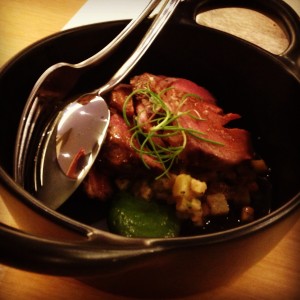 On the lighter side, we ordered black cod, bbq hazelnuts, sorghum, perfectly cooked, which reminded me of how poor a chef I am. I once read somewhere that the difference between a perfectly cooked piece of fish and one that's either over- or under-cooked can be measured in seconds. And I'm not enough of a wizard to make that decision as to when to pull a piece of fish from the fire. The chefs at Range obviously were, because it couldn't have been better cooked. (And speaking of fish, we also had an excellent crudo of yellow fin tuna, soy, lime, jasmine rice earlier in the evening.)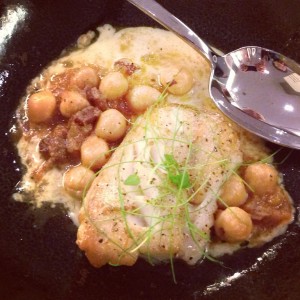 Just because I've left the vegetable dishes to the end, don't think they were any less delectable. We tried many different veggie sides. The hands-down winner was the bowl of fried (yes, fried!) brussels sprouts—and they were fried in bacon! Truly groan-worthy. Not meant for an actual vegetarian, obviously, but awesome nonetheless. I can't see going to Range and not ordering up a bowl.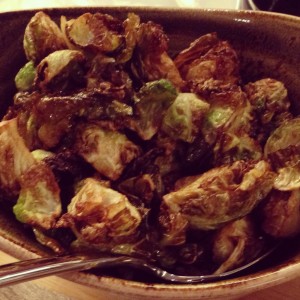 Though not as surprising as the fried Brussels spouts, the rotisserie potatoes with bacon and caramelized onion were equally as delicious.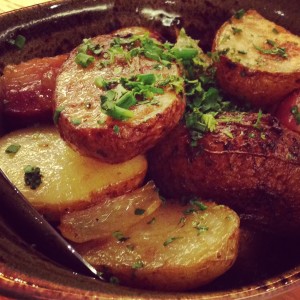 Then there was a dish I should have slotted in earlier in the night, but couldn't let the meal end without sampling—skillet corn bread with bacon marmalade. When a slice of slathered corn bread hit my tongue, my wife had to tell me to stop moaning. It was one of those foodie moments when, if you'd been around listening in with your eyes closed, our table would have been indistinguishable from an orgy. The combination was that good.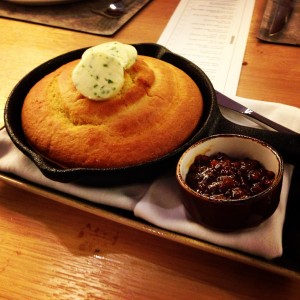 And then we come to the desserts, which included an generous serving of rice pudding surrounded by bowls of caramelized quince, brazil nuts, chocolate, and spiced marshmallow. And Irene ordered the warm apple crisp with brown butter pecan ice cream. And then a dessert cart was rolled over to our table filled with brownies, barks, biscotti and more.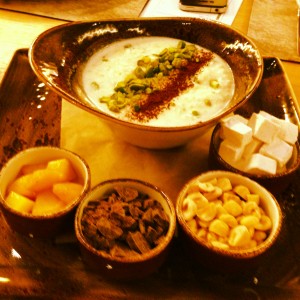 At which point, four hours after we began our meal, we were forced to admit defeat. We'd hit the food wall, and were ready to head home, happy.
But one final mission remained. I wanted to thank chef Bryan Voltaggio for all the good food we'd eaten, not just that night, but during all the other meals I've enjoyed at his restaurants.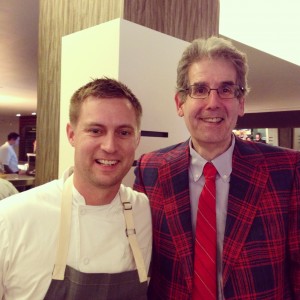 And so, I did. I was grateful that during such a wild night, he took the time to stop by our table.
One final note—remember the plan I mentioned up top, about how I'd order far more dishes than could possibly be eaten during one meal, deliberately creating leftovers I could bring home for further meals? Well, it worked. Here's what we came home with Saturday night …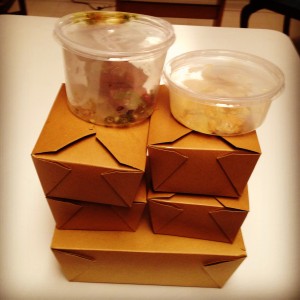 … and here's my Sunday brunch of leftovers—rabbit, veal heart, cornbread, roasted carrots and potatoes , fried Brussels sprouts, sweet potato purée. (Plus—not pictured—foie gras!) All of which tasted just as good the morning after as the night before.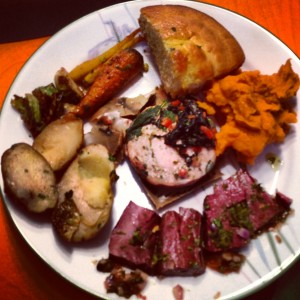 I'm sure I've left out courses and memorable moments—for example, since I don't drink, I can't share anything about the cocktails which had one of my friends raving—but just take my word for it that whatever I've omitted was equally as good as anything I've listed.
Kudos to Bryan Voltaggio and the entire Range crew for a memorable night.
Good luck to you all!