Originally published at Scott Edelman. Please leave any comments there.
So three weekends back (yeah, it's taken me awhile to find the time to get to this), I did one of the craziest, most extravagant things I've ever done. I flew to Chicago. For a meal.
Oh, I've gone to extremes for high-end dining before, such as my meals at Astrid y Gaston in Lima, Momofuku Shoto in Toronto, and Alinea in Chicago, among others. But all of those meals were a side dish to a pre-existing trip—our visit to Machu Picchu, and my attendance at the World Fantasy and World Science Fiction conventions, respectively.
But this was a trip with the meal as its primary focus. My Sicilian dinner at the ever-changing Next restaurant impressed me so that I wanted to take part in its follow-up offering, Kyoto, and so booked tickets back in September the moment they became available.
Even as I did it, it felt wrong somehow. Fly to another city … for a meal? How decadent!
And yet …
If I had a chance to see Nijinsky dance one more time, or Olivier act again, I'd fly across a continent and feel no shame, but when it comes to food, there's somehow a twinge of guilt, of … should I really be doing this?
The answer is, when it comes to chefs operating at this level of art on a menu which will be offered for a limited period only to vanish and never return …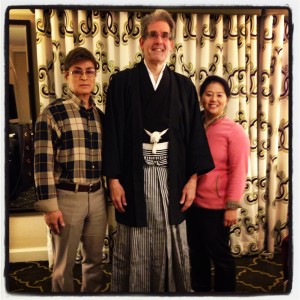 And to make the night even more special, I decided to honor the occasion and arrive in the proper garb, and so rented a hakama, as I did while attending the Worldcon in Yokohama. The owner of Kotobuki in Seattle had kindly put together a video showing how to don the clothing, but since it took two Japanese women 45 minutes to dress me back in 2007, and I feared I'd muck it all up and didn't want to put pressure on Irene, I reached out to members of the Fujima Ryu classical Japanese dance troupe of Chicago for help. That's me with them above after they worked their magic.
And after all that, I wish I had something useful to say about the meal … other than that it blew me away, I honestly have no yardstick against which to gauge the magnitude of the effort.
What I mean by this is that during Sicily, I recognized that Next was in the business of serving the Platonic ideal of whatever cuisine they choose to serve, so that when you tasted each item, you immediately thought, yes. This is the way this meal should be prepared, and all those other times I tasted it were but shadows.
Only … what if you're unfamiliar with the cuisine in question? What can you say to yourself then?
As it turns out, not much. So I had to take it on trust that the level of artistry I'd encountered during the Sicily run of Next had also been present during Kyoto.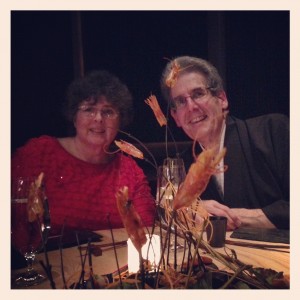 Yes, I loved nibbling on the forest of shrimp heads (through which you can see me and Irene above), and the barracuda which was brought on a grill to our table (below) was some of the best fish I've ever eaten.
But even though I've actually visited Kyoto, can I compare the courses served during our lengthy meal to what they should be in their most divine form? I cannot. I can only report that I enjoyed every moment of the experience, from the food to the interactions with the servers to watching the action of the chefs from our kitchen table.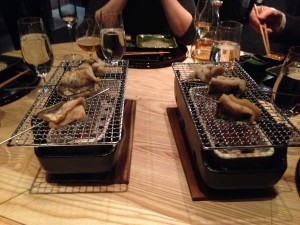 Had I known the cuisine better, I'm sure my appreciation could have been so much greater. But you know something? Even so, it was more than enough for me to be happy.
I left dedicated to the idea that in 2013, I would be back. And maybe next time, with the coming menus, I'll be better able to report back with the specifics of how Next nailed it. Because this time around, I can only take it on trust.
And while faith is good … knowledge is better.