Originally published at Scott Edelman. Please leave any comments there.
Sean Howe, whose history of Marvel Comics in the '70s, Marvel Comics: The Untold Story, was one of my favorite reads of the year—how could it not be? I was there—shared this poster the other day for Phil Seuling's 1970 Comic Art Convention.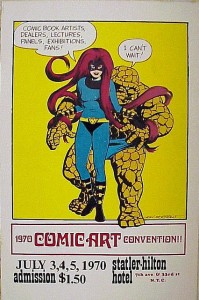 I hadn't seen it in decades, and boy, did it bring back memories. Because as I've already told you, I was there, too.
It was my first convention, one at which I met many who would eventually become part of my karass.
And now you'll have to to excuse me … I think I've got something in my eye …