Originally published at Scott Edelman. Please leave any comments there.
I'm still not sure how we were lucky enough to end up dining at Huth Gastwirtschaft, which was recommended to us as one of the best places in Vienna for traditional Austrian food. And the fact that I don't speak German means it will forever be a mystery.
The first issue we had to overcome last Friday night was to figure out which Huth was the Huth we wanted. When we got to Schellinggasse, we found two Huths on opposite sides of the street, and we weren't sure which of the two was the one that had been so highly recommended. So we studied both the menus hanging outside and what we could make out of the diners through the windows, and were able to determine that the Huth on the north side of the street had no tablecloths and served more casual food such as burgers, while the Huth on the south side of the street—the one with Gastwirtschaft in its name—appeared more upscale both in the table settings and what was being served on them.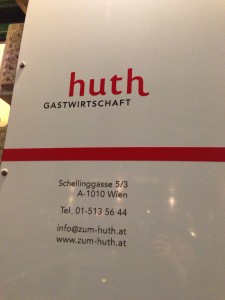 So we went in and asked whether we could have dinner. Unfortunately, we were told … no. Which is understandable—it was a Friday night between Christmas and New Year's, so it made sense restaurants would be busy. But it was our first night in Vienna, and we were hungry, so we thought we'd give it a shot.
I then asked whether there were any openings for two later in the evening, because we had no problem coming back. Again, we were told … no.
As we buttoned up our coats and started heading back out to the street, a grey-haired woman seated at the bar said a few sentences—in German—to the server who'd turned us away. Irene and I then stood in front of the restaurant wondering where we should try next, when the server rushed outside and waved us in. "Come, come!"
Puzzled, we went back inside and were given a table. I have no idea what the woman said to get us seated—was she the owner, taking pity on two bedraggled tourists?—and due to the language barrier, we'll never know. I'm just extremely grateful, and happy that we got a chance to order from this menu, which proved to be second in quality only to Steirereck of the meals we had in Vienna.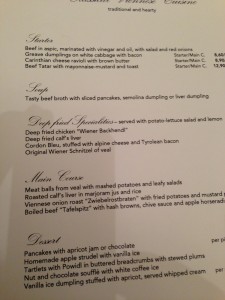 While we waited for our appetizers, a server brought over bread and a complimentary container of potted foie gras—very delicious, very creamy, but far more volume than Irene and I could do justice to with what we knew was to come.
Then our appetizers arrived. I ordered the greave dumplings on white cabbage with bacon …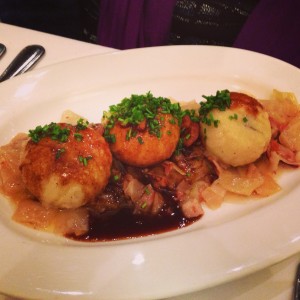 … while Irene chose the Carinthian cheese ravioli with brown butter.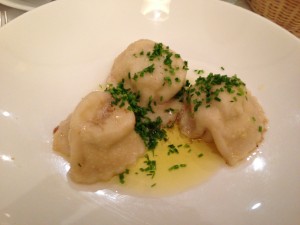 We shared the appetizers, as we shared all the courses here, and while I liked them both, I preferred the greave dumplings to the cheese ravioli, though I suspect that's more on me than the chef, because I'm more a meat guy than a cheese guy. Plus, I was intrigued by the greave, which I've never had before. (I ashamed to say I had to Google later to learn about the tasty filling I'd just eaten.)
For our main courses, I ordered Original Wiener Schnitzel of veal …
… while Irene went with the Cordon Bleu, stuffed with Alpine cheese and Tyrolian bacon.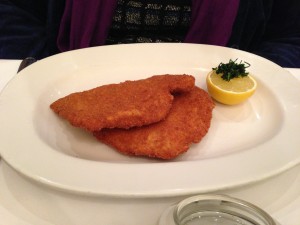 The schnitzel, crisp, thin, and flavorful, was the best I had while in Vienna, and while Irene's Cordon Bleu was also delicious, it was perhaps too similar to the schnitzel in style for us to get a full sense of the range of the menu. Perhaps we shouldn't have ordered two fried dishes. Ah, well … next time.
Our entrees were served with warm potato salad, which up until we tasted it, we'd thought, based on the coloring, was baked apples. Light, and a good contrast to all that fried food.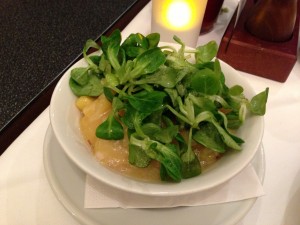 For dessert, I ordered Tartlets with Powidl in buttered breadcrumbs with stewed plums, a dish I'd never seen before. I didn't even know what Powidl was! Turns out it's a filling of plum stew.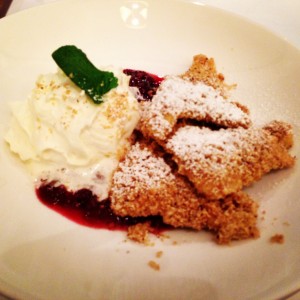 Irene, of course, ordered the homemade apple strudel with vanilla ice.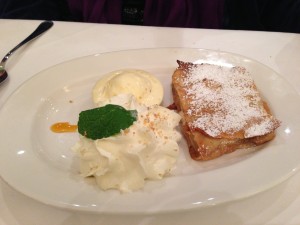 The tartlets turned out to be my favorite dish of the evening, and one of my favorite dishes of the entire Vienna trip. The dough was soft but chewy, the breadcrumbs that covered them making for a nice contrast. And the Powidl had a tartness to it that added a minor bite to the dish. Not that the strudel should be slighted—its pastry was among the best we had in Vienna.
Huth Gastwirtschaft is definitely worth a visit—though don't make our mistake. Get a reservation in advance! After all, there might not be a mysterious grey-haired Austrian lady to utter some magical words in German that will open a table for you, and you wouldn't want to miss out.