Originally published at Scott Edelman. Please leave any comments there.
If you're in Vienna, you've got to try the Sacher-Torte. And if you are going to try the Sacher-Torte in Vienna, then it had better be at the Hotel Sacher, right? (Though now that we're home, I see we should have also tried a slice from the Demel bakery. Who knew there'd been such an intense legal battle around cake?)
We walked by the Hotel Sacher many times during daytime hours, as it's across the street from the Vienna State Opera and we were hopping on and off of trams nearby often. There was always a long line out the door, making us realize that if we wanted to eat at Cafe Sacher, we were going to have to do it way off-peak—such as after one of the many evening Mozart and Strauss holiday concerts with which we filled our evenings.
And so, two weeks ago, on New Year's Eve eve, we took a tram and ended up back at Hotel Sacher around 10:30 on a Sunday night, when as it turned out there was still a line out the door, but at least a much shorter one, so we got a table after half an hour's wait rather than it taking an hour or two.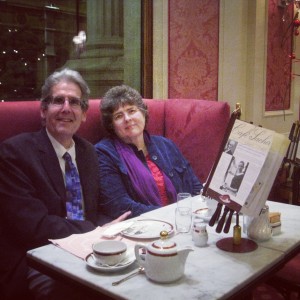 Our wait was cold (hey, Vienna was always cold while we were there) so though the Sacher-Torte was what brought us there, I figured I should have a cup of goulash to warm myself up. The goulash was good, second only to what I'd have the following day at Café Landtmann … but that's not what you're here for, I know. What you want to know is … how was the Sacher-Torte?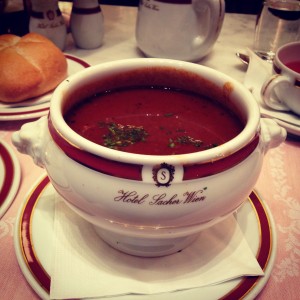 Forgive me … but I was underwhelmed.
It's not that the cake was bad, it's just that it was, well, extremely dry, and didn't have the dense, rich, chocolate flavor I was anticipating. The frosting, on the other hand, was everything that the cake itself was not. So you had a dry cake wrapped in rich fudge. I was conflicted, and was left thinking after each bite, "This is Sacher-Torte?"
But before I start singing the chorus from "Is That All There Is?" with Peggy Lee …
… let me add that Irene says my problem with the Sacher-Torte was all on me—that Sacher-Torte is meant to be a dry cake, and for me to find fault with it because of its nature is misjudging it, because in its dryness, it's truly living up to the Platonic ideal of what it's meant to be.
I'll let her have that … for now. At least until I try a slice someday from Demel to compare.
The Apple strudel, however, was so good, it vanished before I could photograph it!
A final thought—
Expect to be surrounded entirely by tourists during your visit. I got no sense of there being any Viennese present, save for our waiters. Unlike the cozy atmosphere at Huth Gastwirtschaft, where we'd dined a few nights earlier, a meal during which we felt as if we were surrounded by locals enjoying a night out at their favorite restaurant, with Cafe Sacher there was a definite sense of the room existing for the tourist trade alone, which made the surroundings feel less authentic than I'd hoped it would be. Perhaps it was just our night, but it did leave me wondering about the customer base.