Originally published at Scott Edelman. Please leave any comments there.
I told you earlier this week about the Authors Gala that SFWA will be hosting at Mad City Coffee in Columbia, Maryland tomorrow night from 7:00-9:00 p.m.—but just in case that didn't convince you to attend, here's an updated flier with even more photos of the authors who'll be taking part.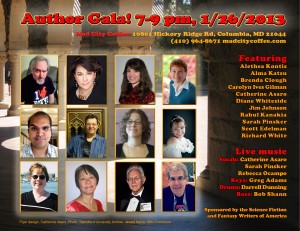 Now that you know what we all look like, I'm sure you'll try real hard to be there. You wouldn't want to be the one responsible for making those faces sad, would you?