Originally published at Scott Edelman. Please leave any comments there.
One of the unexpected pleasures of last weekend's Immortal ConFusion was that someone had dumped several decades worth of Locus back issues on the freebie table, which meant I was able to dig though copies from the '80s and '90s and sit round with my friends who were there remarking about how much our absent friends had changed.
One article that amused me contained the results of the annual Locus poll, and what made it especially amusing was that in 1991, the editors decided to be more playful than usual. In addition to being asked which novels, magazines, etc., we most liked, we were also asked, "Which author would you most like to meet, marry, publish or murder?"
While the "meet" and "publish" results were mildly interesting, it's the "marry" and "murder" answers that appeared in the September 1991 issue that were the most fun.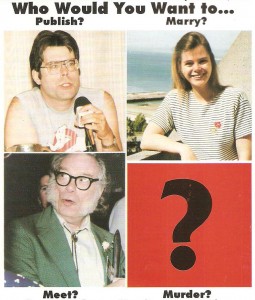 And the author Locus readers most wanted to marry 22 years ago was …
Apparently, she led the 146 nominated authors "by a wide margin."
The other finalists, in alphabetical order, were—
Isaac Asimov
David Brin
Louis McMaster Bujold
Pat Cadigan
C. J. Cherryh
Charles de Lint
Lisa Goldstein
Stephen King
Kathe Koja
Ellen Kushner
Tanith Lee
Ursula K. Le Guin
Anne Rice
Jennifer Roberson
Pamela Sargent
Kate Wilhelm
Connie Willis
When it came to the author readers most wanted to murder, Locus played it coy, and did not name which of the 122 who'd made the list ended up in the lead, choosing only to reveal in alphabetical order the ten authors "with significant votes."
The winners—if they can be called winners—were—
Piers Anthony
Isaac Asimov
Orson Scott Card
Jack L. Chalker
Stephen R. Donaldson
Harlan Ellison
L. Ron Hubbard
Stephen King
John Norman
Jerry Pournelle
You can be sure that during the con, whoever saw the article made suggestions as to the 2013 candidates for such lists. I'm sure you have some of your own.
As for my own contemporary suggestions … my lips are sealed.
At least here.
But catch me at a con in an unguarded moment and you might hear something very different.