Originally published at Scott Edelman. Please leave any comments there.
So yesterday, my boss and pal Craig Engler tweeted a pic of three oranges. He said it was a snack, but it sure looked like he was about to juggle to me. That's when I learned he's an accomplished juggler, who's not only juggled clubs, but fire!
How did I not know that about a guy I've known for maybe 20 years? No idea. But what he didn't know, and what you probably don't know either, is that I was once in the Guinness Book of World Records—for juggling!
Back in the early '80s, I learned to juggle—and so did my brother and Dad. We were pretty new to it in 1983 when we heard that year's International Jugglers' Association convention would be held at nearby Stony Brook University, but we were having so much fun tossing stuff in the air (and not letting it fall to the ground) that all three of us went.
Which resulted in us talking part in an attempt to break the record for the most number of people juggling the most number of things at the same time. This photo captured the moment when 476 of us juggled 1,867 objects, and ended up on the wraparound cover to the association's September 1983 magazine.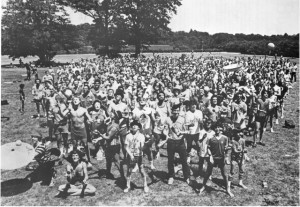 I know the photo is pretty low-res, but if you enlarge it and try real hard, you can spot me with a beard and sunglasses in about the fourth row, my Dad to the left, my brother to the right. (Sure hope to find a better shot for this someday!)
As I recall, we were required to juggle for a minimum of ten seconds while spotters from Guinness watched to make sure no one dropped anything. I think we were able to pull it off in only two tries. Though us Edelmans stuck to balls, some of the others tried to juggle some fairly weird objects. As you can see in the rear toward the right, someone was even juggling a child's wading pool! Our successful attempt was noted in the following year's edition of the Guinness Book of World Records.
But that wasn't the only time I made it into the pages of the association's magazine.
Back in the '80s, during one of my gigs between publishing jobs, I worked for the company that imported St. Pauli Girl beer, and in the June 1984 issue, I was pictured (pretty unrecognizably, I'm sure, to those who've only gotten to know me recently) holding clubs I'd decorated with labels.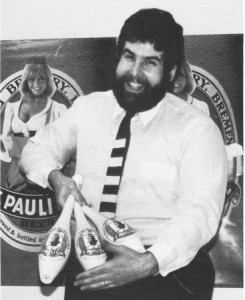 As the article reported:
SCOTT EDELMAN OF BROOKLYN, New York, started juggling a year ago. He enjoyed it so much that before long he began juggling at work. This caused complaints from coworkers when they were occasionally struck by flying objects.

To strike a happy compromise, Scott offered to put his company's labels on all his props. Now he is the official juggler of the Carlton Importing Company, importer of St. Pauli Girl and San Miguel beers.

With a year of experience, he doesn't drop much any more, and even performed as a juggling Santa Claus as the company Christmas party!
Yes, you heard that right—I was the juggling Santa!
And now that I've taken up the ukulele, who knows? If I start making balloon animals, you'd better watch out. It might mean I'm about to begin a whole new career as a street performer!