Originally published at Scott Edelman. Please leave any comments there.
Two months ago, Irene and I were lucky enough to be part of the initial seating at Range on the first of its pre-opening preview nights, which surprisingly resulted in me being interviewed by the foodie site Eater about the experience. Saturday night, we headed back to the Chevy Chase Pavilion with two other couples to see how Bryan Voltaggio's newest enterprise was coming along … and to try a few of the dishes even we didn't have room for the first time around.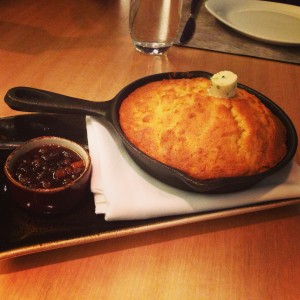 We hadn't intended to repeat ourselves, but there were a couple of dishes so good that eating at Range and not ordering them would rank as some sort of sin. So we once more ordered the cornbread with bacon marmalade, as well as the Brussels sprouts fried in bacon. (Are you noticing the bacony theme here?) The rich, smoky spread contrasted well with the light cornbread, and those Brussels sprouts … man! Never before have vegetables seemed as enticing as candy. Which is why we went through two orders.
Our table wasn't all about the meat, though. We shared a selection of cheeses …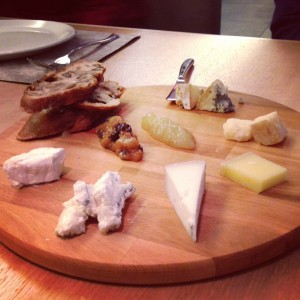 … plus my pescaterian friends focused on such dishes as lightly smoked salmon crudo with tater tots and meyer lemon dust …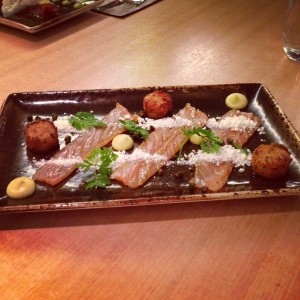 … and tuna crudo with wasabi cream and jasmine rice crackers. (At least, I'm told those were the ingredients—because as much as I would have liked to try some, I yielded the fish to my friends. Besides, I was saving myself for the beef shin that I expected to be—and which actually turned out to be—the star of the evening.)
One thing I noticed about the level of service—the attentiveness of the staff to the mood of the table had increased since the hectic opening, during which a few missteps occurred, though ones that could be forgiven due to employees still figuring out the rhythm of the house.
For example—I'd ordered one of the house sodas, a pineapple, and was told as I made my choice that there'd be a flavor of vinegar to the drink which some might be unprepared for, but that was how it had been designed. I decided to try it anyway, and while it was an interesting drink, I found that the vinegar was indeed too prominent for me, as opposed to being the undertaste I'd expected.
When my server noticed after several courses how slowly the level of liquid in my glass had fallen by that point in the meal, he asked whether I was enjoying it, and offered to strike it from the bill. I appreciated the offer, but told him there was no need. I felt I'd been properly instructed as to the flavor of the drink, so the fact it wasn't 100% to my liking was on me, not him. But the offer showed he was both paying attention and empowered to take action. Not attributes always present in servers, so kudos there.
We ordered two other vegetable dishes for the table, one cauliflower, the other mushroom. The former wasn't quite as transformative as the Brussels sprouts, and the mushrooms, sadly, never arrived, a fact we only realized as we were considering dessert. Luckily, we also realized that we were so satiated, we'd never have had room for them anyway. (Perhaps our server had read our minds and realized that?)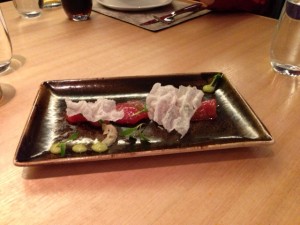 And now we get into the meat, such as the roseda beef eye of rib eye (which I enjoyed, though not to the mid-blowing level of the two other meats) …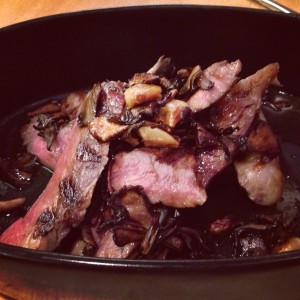 … and the beef marrow bones with garlic and golden raisins, one of two dishes I knew going in that I had to have night.
I've eaten marrow many times, and each time the experience has been different. Sometimes it's a very stripped down and primal experience, just you and the marrow, sometimes a chef brings something more transformative to the dish. There's nothing wrong with the former, it can feel as it's just you and the beast who provided it in communion, but I recognize that there are many out there not into such flavors, particularly those not as excited by offal as I am.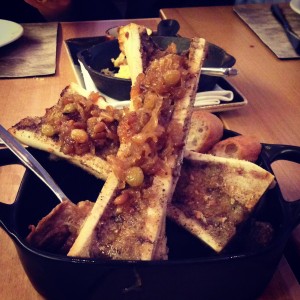 But in this case, something more was made of the marrow. Part of me wants to say that this is beef marrow for those who don't think they'd like beef marrow… though I wouldn't want that to put off those who like their marrow plain and simple. But for what it's worth, I enjoyed this marrow more than any other I've ever experienced.
Finally, we arrive at the star of the evening—a 36-hour sous vide beef shin with carrots and red wine. It's touted on the menu as a dish for six, the only dish to be so described, and it certainly lives up to that claim. That thing was massive!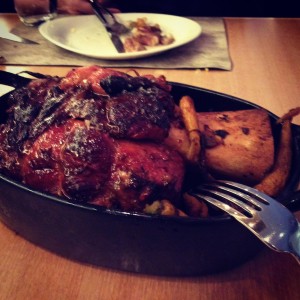 And beautiful, too. Take a closer look at that bark!
So … massive and beautiful … but how did it taste?
It was about as perfect a piece of meat as has ever been put before me. It fell apart to the touch of the serving fork, no carving needed. (Though after 36 hours in the sous vide, it better!) This was one of those moments I speak of during which, well, I find I can't … speak, that is. The rich flavors on my tongue stole all thoughts from my head except for sensual, hedonistic ones. I had no room in my brain for anything but absorbing its flavor. So though the conversation swirled around me, I'm afraid I wasn't carrying my weight. It had come down to just me and the shin.
The six of us did our best to finish it, but even after we admitted defeat, there was still enough left over for me and Irene to each have lunch the next day. According to my kitchen scale, I'd brought home 12 ounces of meat—which paired up with my own roasted squash, zucchini, eggplant, and other veggies, made for quite amazing Sunday lunch.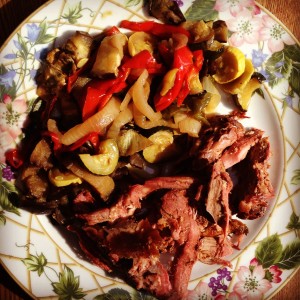 Once the remains of the shin were cleared away and packaged in a takeaway box, Chef Voltaggio let me have a peek behind the scenes at his Stagionello curing case (a second will be delivered soon) in which hanging meats were aging. There were more than 400 hours remaining on the countdown clock before the first of the homemade charcuterie would be ready. Guess I should head back in a couple of weeks to give it a taste, eh?
I didn't want to keep him too much from his work, but I told him about my recent meal at Steirereck, my coming meal at Eleven Madison Park, and how elBulli would soon be re-opening to customers while a movie was being filmed there. (Though a part of me wonders … are chefs OK with it when you talk with them about other restaurants, or do they feel the way a spouse would if you mentioned people you used to date? Until corrected, I'll choose to think they love talking food so much that they're fine with it.)
We agreed that if either of us managed to get a table at elBulli, we'd invite the other along. Though I'm not holding my breath—elBulli used to get millions of requests for the thousands it was able to serve each year, and the rumor is, those new reservations will be given out via lottery. Still, we did shake hands on it—
So I'm holding you to it, Voltaggio!
Bottom line? Get yourself to Range. Get some bone marrow. Get that shin. And prepare to be wowed.