Originally published at Scott Edelman. Please leave any comments there.
I drove over to Gaithersburg yesterday so I could take part in the Maryland Ukulele Jam, a gathering which started last month and, if all goes well, will continue on the third Sunday of every month.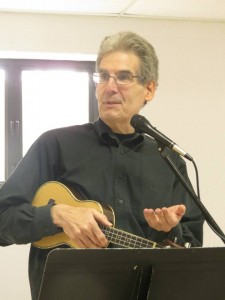 We jammed to about a dozen songs, one of which was led by yours truly. I decided to share Malvina Reynolds' "Little Boxes," not just because it's a fun song, but also because it only uses three chords, and is therefore easy to pick up even for those who've never heard it before.
Susan Shen Yu was kind enough to record me in front of the group.
Click below for the lyrics and chords so you can strum along at home if you'd like:
"Little Boxes" by Malvina Reynolds
The group is open to everyone, so join us if you can, whatever your experience level. Future dates and times are listed here. Beginners welcome, so come on down!