Originally published at Scott Edelman. Please leave any comments there.
A new convention debuts in D.C. next month from the folks behind the Museum of Science Fiction, and they've dubbed it Escape Velocity.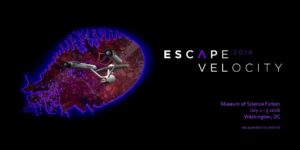 They're trying to make it more than just a con, but rather "a micro futuristic world's fair." Don't worry, though—there'll be plenty of the expected panels as well. And I'll be on two of them—
Star Wars: Then and Now
Sunday July 3rd 12:30
An open-ended discussion on the Star Wars universe following the inclusion of The Force Awakens to the series. How has the universe changed? How has it stayed the same? How did the returning cast do after so many years away?

Strangers in a Strange Land: What is 'Science Fiction' and Where Is It Going?
Sunday July 3rd 3:00
A free-wheeling discussion between panelists and the audience about what does—or does not—count as science fiction. Are there common misconceptions about what qualifies? Or are we too limited in our thinking? What does the vox populi consider to be science fiction versus that of science fiction aficionados? Ultimately, who's to say what is or is not science fiction?
If you make it to the Gaylord National Resort and Convention Center for Escape Velocity, be sure to say hi!