Originally published at Scott Edelman. Please leave any comments there.
I was interviewed last night by someone writing a book about the early days of comics fandom and how it led to the rise of the dedicated comic book shop. As part of that, one of the things I was asked to recount was how and where I used to buy my comics when I was growing up in Brooklyn.
I remembered Joe and Morty's candy store on Aveue P, in which I was unable to decide whether to buy X-Men #1 or Avengers #1, as I only had 12 cents in my pocket and they'd both come out the same day. But I also remembered an article I wrote years later for my high school newspaper about My Friends bookstore, where I'd been induced by my parents to sell all my comics because they felt I owned too many of them.
In any case, because my interviewer wanted to see the piece, and I went to the trouble of scanning it for him, I figured I'd share it here as well. Basically, this is me looking back on around 1968 from the perspective of 1972.
I certainly hope I've become a better writer since then!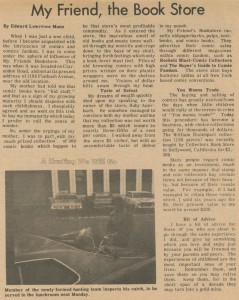 I don't know whether you noticed what I just noticed. But I was wrong when I claimed there that selling 300 comic books for $5.00 netted me "exactly three-fifths of a cent per comic." It was actually 1.667 cents per comic. And it took me more than forty years to notice.( Read the rest of this entry »Collapse )