Originally published at Scott Edelman. Please leave any comments there.
Andy Duncan and I got together Wednesday at the Princess Cafe—where Harry and Bess Truman had lunch one Father's Day more than 60 years ago—and recorded the sixth episode of Eating the Fantastic while seated in the same booth they'd once occupied.
Andy's an award-winning writer many times over, having won a Theodore Sturgeon Memorial Award, a Nebula Award, and three World Fantasy Awards. Plus he's also been nominated for the Bram Stoker and Shirley Jackson Awards. His collections include Beluthahatchie and Other Stories (which came out in 2000) and The Pottawatomie Giant and Other Stories (published in 2011).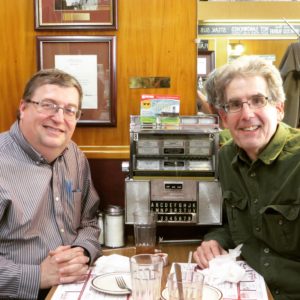 We discussed the profound influence of Richard Pryor on his writing, why he loves playing with real-world historical characters and events in his stories, what it was like to collaborate with Ellen Klages on their award-winning novella "Wakulla Springs," what, if anything, writing teachers can teach, and more.
Here's how you can join us—( Read the rest of this entry »Collapse )