Originally published at Scott Edelman. Please leave any comments there.
I'm home from Worldcon … technically. Both my brain and body are still on London time, which means I'm tired when I should be awake and unable to sleep when I should be tired. But in this brief moment of lucidity, before I launch into a full Loncon3 report—as well as recaps of my meals at The Fat Duck and Dinner by Heston Blumenthal—I thought I'd share my personal highlight of the convention.
It occurred an hour or two into a party being thrown by the publishing company Gollancz. I was in a back room of the Aloft Hotel bar with Robert Reed, Ellen Datlow and others when I spotted the great Brian Aldiss standing by a pool table watching the action. And since I don't get to see Aldiss often—in fact, the last time was likely during the 2000 Nebula Awards ceremony at which I was Toastmaster and he was named a Grand Master—I immediately left my group, because such opportunities are not to be missed.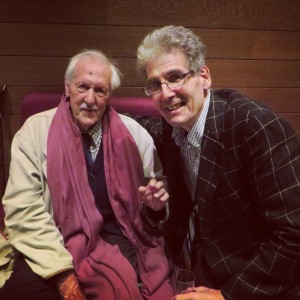 I introduced myself and reminded him of when we'd last met. Joined by Rani Graff and Alvaro Zinos-Amaro, we chatted for awhile, a discussion which eventually led to Aldiss reminiscing about the first London Worldcon, held in 1957. I pulled up a site filled with numerous photos from that event, which delighted him. Luckily, looking at all of those images of dead friends made him wistful rather than maudlin.
A wonderful moment … but not yet the most wonderful moment.( Read the rest of this entry »Collapse )