Originally published at Scott Edelman. Please leave any comments there.
My final Eating the Fantastic episode recorded during the Kansas City Worldcon was also my final taste of Kansas City BBQ. I chose Q39 for my brisket farewell, as Bonjwing Lee, a foodie I trust, had written that the place offered "some of the most tender and well-smoked meat" he'd eaten recently according to his Eater survey on Kansas City burnt ends.
My guest this episode is the incredible prolific Robert Reed, who's been writing award-winning science fiction for decades—and I do mean decades—starting in 1986, when he was the first Writers of the Future Grand Prize Winner for his story "Mudpuppies," all the way to 2007, when he won the Best Novella Hugo Award for "A Billion Eves" (which I was honored to accept on his behalf at the 2007 Worldcon in Yokohama).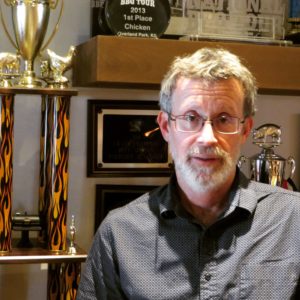 We discussed why he believes he isn't as prolific as we all think he is, the reason Robert Silverberg was a role model for him as he was getting started, what it was like writing 500-word short shorts for the Destiny videogame, why he didn't read the shooting script when his short story "Truth" was made into the movie Prisoner X, how he really feels about collaboration (hint: he doesn't play well with others), and more.
Here's how you can share the BBQ and conversation—( Read the rest of this entry »Collapse )