Originally published at Scott Edelman. Please leave any comments there.
I visited yesterday with a friend who's winnowing down his book collection, and as we reviewed what remained on his shelves, we reminisced about those we'd both read a long time ago, including favorites by the likes of James H. Schmitz and Harry Harrison. He loved them so much he couldn't bear to part with them.
But there was one book he was hanging on to not because it was so good, but because it was so bad.
He called Vanguard to Venus, by Jeffery Lloyd Castle, the worst science fiction novel he'd ever read.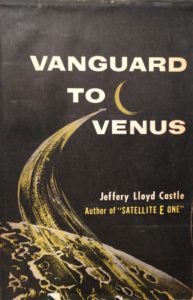 I'd never heard of the 1957 novel or its author, but one thing was clear—whatever the quality of the words between the covers, the book's back cover blurb was one of the best I'd ever read.
Check out its bold claims, including an ALL CAPS pronouncement that science fiction is "an exciting and imaginative NEW FORM OF LITERATURE that is attracting literally tens of thousands of new readers every year."
How could you not love a blurb like that?