Originally published at Scott Edelman. Please leave any comments there.
Another episode of Eating the Fantastic … another helping of Kansas City BBQ.
As part of my quest to eat all the BBQ I could during this year's World Science Fiction Convention, I ended up at Gates B-B-Q, since according to the word on the street (if the Internet can be considered the street), it's one of the two best BBQ joints in Kansas, the other being Arthur Bryant's.
Here's a story of the difference between the two of them which may be apocryphal, but—I've heard that when candidates for political office come to town, they always head to Arthur Bryant's for their photo ops—but the journalists, the crews running the cameras, the working stiffs following those candidates—they head to Gates. I have no idea whether that's truth or fabulation, but it sure does make for a good story!
Joining me at Gates was the ridiculously talented Alyssa Wong, nominated at Worldcon for the The John W. Campbell Award for Best New Writer, and winner of the 2015 Nebula Award for Best Short Story for "Hungry Daughters of Starving Mothers" … which is also up for a World Fantasy Award. Whether or not she wins will be revealed at a banquet this Sunday in Columbus, Ohio.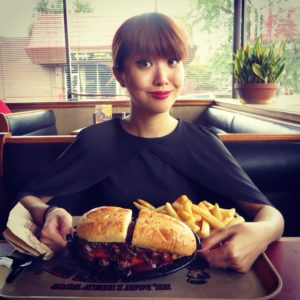 Listen in as we chow down on BBQ and talk about what franchise inspired her to write fanfic, the exciting moment when she first encountered a character who looked like her, where she hopes to be 10 years down the road, how she encountered Faceless Ghost Grandma, why she said, "I hate being bored and I don't like rules," and more.
Here's how you can share the BBQ and conversation—( Read the rest of this entry »Collapse )