Originally published at Scott Edelman. Please leave any comments there.
The Nebulas Awards banquet was held last night in San Jose, and usually, I'd have been there. But this year, I wanted to attend the the March George Formby Society Convention in Blackpool, and so something had to give—which meant the Nebulas as well as this year's World Horror Convention in New Orleans were out.
So I amused myself this weekend by looking back two years to my photos from 2003 Nebula Awards weekend and sharing them on Twitter, but thought I should gather them together here as well.
So get ready to flashback to a gentler, more innocent time …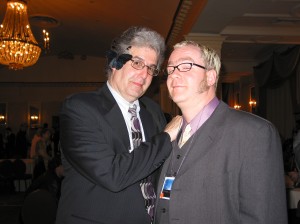 Scott Edelman (with butterfly) and Bill Shunn