Originally published at Scott Edelman. Please leave any comments there.
I'm still not sure how we were lucky enough to end up dining at Huth Gastwirtschaft, which was recommended to us as one of the best places in Vienna for traditional Austrian food. And the fact that I don't speak German means it will forever be a mystery.
The first issue we had to overcome last Friday night was to figure out which Huth was the Huth we wanted. When we got to Schellinggasse, we found two Huths on opposite sides of the street, and we weren't sure which of the two was the one that had been so highly recommended. So we studied both the menus hanging outside and what we could make out of the diners through the windows, and were able to determine that the Huth on the north side of the street had no tablecloths and served more casual food such as burgers, while the Huth on the south side of the street—the one with Gastwirtschaft in its name—appeared more upscale both in the table settings and what was being served on them.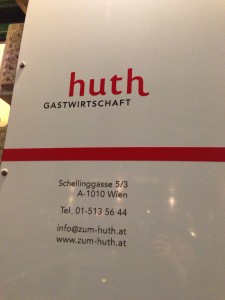 So we went in and asked whether we could have dinner. Unfortunately, we were told … no. Which is understandable—it was a Friday night between Christmas and New Year's, so it made sense restaurants would be busy. But it was our first night in Vienna, and we were hungry, so we thought we'd give it a shot.
I then asked whether there were any openings for two later in the evening, because we had no problem coming back. Again, we were told … no.
As we buttoned up our coats and started heading back out to the street, a grey-haired woman seated at the bar said a few sentences—in German—to the server who'd turned us away. Irene and I then stood in front of the restaurant wondering where we should try next, when the server rushed outside and waved us in. "Come, come!"
Puzzled, we went back inside and were given a table. I have no idea what the woman said to get us seated—was she the owner, taking pity on two bedraggled tourists?—and due to the language barrier, we'll never know. I'm just extremely grateful, and happy that we got a chance to order from this menu, which proved to be second in quality only to Steirereck of the meals we had in Vienna.( Read the rest of this entry »Collapse )